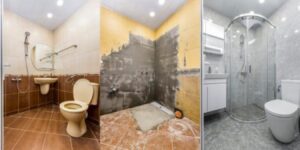 We spend a serious amount of our lives in our bathrooms, from hurried morning routines to relaxing evening soaks. So, this space should feel comfortable, be functional, and be reflective of your personal style. The last thing you want is your bathroom to feel more outdated than outstanding. If you're noticing any of the following signs, it might be time to consider a revamp.
Wear and Tear Has Become Too Apparent
Daily use means our bathrooms endure a lot. Over time, tiles crack, grout gets grimy, and faucets start to leak. If your bathroom fixtures are showing significant signs of wear and tear, or if you find yourself dealing with constant repairs, it's probably time for a full-scale renovation. A newly remodeled bathroom not only feels refreshing but also saves you from future headaches when it comes to maintenance.
Outdated Designs and Fixtures
Design trends evolve, and what was once the height of fashion can begin to feel a bit outdated. Do you still have that avocado-colored bathtub from the 1970s or a sink that's seen better days? Maybe it's time to update the aesthetics to something more modern and to your personal taste. A fresh design overhaul can give your bathroom a contemporary feel and even make it more functional.
Changes in Your Lifestyle or Needs
Perhaps when you first moved in, that single sink was enough, but now you're finding yourself jostling for space with a partner. Or maybe you're considering features that are more accessible as you age. Whether it's the need for more storage, a walk-in shower, or integrated smart technology, evolving lifestyles can mean that your old bathroom setup no longer meets your needs.
Your bathroom should be a sanctuary, a place where form meets function. If any of these signs resonate with you, it's worth considering a remodel. And when you're ready to make that change, you deserve the best in the business to guide and assist you. That's where we come in: at Leonzo's Painting and Renovation LLC, we specialize in breathing new life into spaces. With our unparalleled commitment to craftsmanship and attention to detail, our expert team is here to help you build the bathroom of your dreams. Give us a call today at 206-371-3698 to get started!